Small and big beads necklace
This necklace is based on a little sketch ( circled in pink) I found in one of my the books in which I took down class notes last year...
Things you need:
Seed beads and big beads (no. of beads depending on size of the necklace)
Ribbon
Thread and needles
Pair of scissors and a glue gun
Steps:
1. Cut threads depending on no. of lines of beads you want and the length of the necklace( cut around 6 to 8 inches more than the desired length of necklace).
2. Knot all the threads together at around 4 inches away from one end.
3. Add a big bead through all the threads and bring it upto the knot; if the bead slips over the knot add a smaller bead before it.
4. Now thread a row smaller beads onto one thread. I've used 27 for each; a white bead between every six yellow beads.
5. Do the same for the remaining threads (add a needle to each thread to make it easier to string the beads).
6. Now add a big bead through all the threads and repeat the small-big bead sequence till necklace reaches desired length. Tie a knot at the end (do not cut off the threads yet!)
7. Now cut two pieces of ribbon around 6 to 8 inches and heat seal the edges.
8. Gather all threads at one end of the necklace and thread them through a needle. Take a couple of stitches through the ribbon around ¾ Th inch away from the end and tie a knot.
9. Add hot glue to the knot and fold the ¾ Th end of the ribbon over it. Repeat with other end.
10. Done!
Notes:
• If the ribbon tie is not your style simply add a clasp and jump rings.
• Add a little fabric or other glue to all the knots to strengthen them.
• If you can think of any other way of attaching the ribbon , let me know.
Linking to

Today's Creative blog
Tea Rose Home - Link party no. 22
Someday Crafts - Whatever Goes Wednesday no. 29
Fireflies and Jellybeans - Show Off Your Stuff no. 43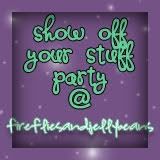 Tatertots and jello - weekend wrap up party!